What to expect
The training will offer a comprehensive manual that comprises of 9 chapters covering all elements of social investment that an adviser would need to know about to successfully advise in this area.
ENDORSED BY THE CISI FOR 18 HOURS OF STRUCTURED CPD!
Syllabus
The syllabus spans 9 chapters and covers topics such as: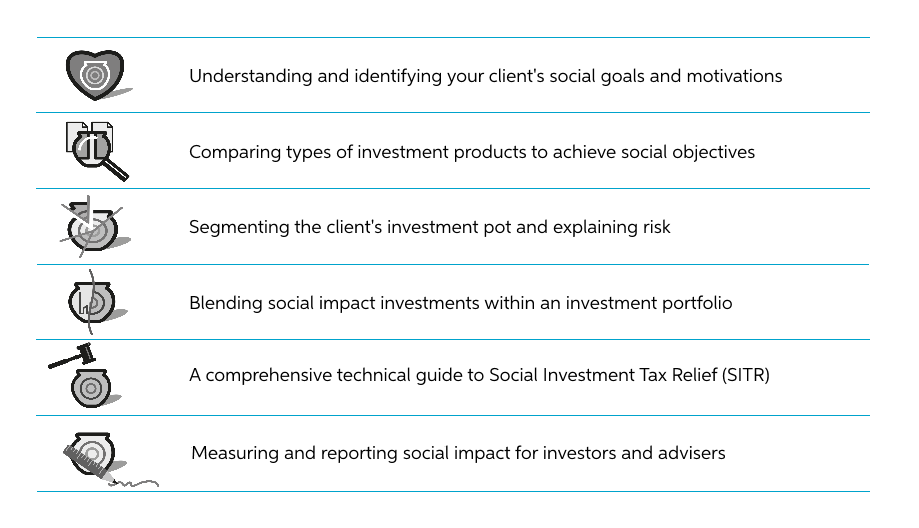 It has been authored by industry experts, click to find out more about the ACT authors.
The manual also includes a variety of learning markers in order to enhance and better support your learning.
Cost
The manual is currently available for £150.00 (inc. postage and packing to a UK address).
Assessment
Included within the manual are 70 multiple-choice, self-test questions. By sending the answers to us, via the included answer sheet, you could be awarded the Certificate in Social Investment providing a satisfactory mark is achieved.
Entry Criteria
There are no specific entry criteria for purchasing the manual but we advise that applicants should be able to show:
A minimum of two years' client service experience (not necessarily client-facing)
Client service experience to include the preparation and delivery of a financial plan
A desire to understand social investment and its potential role within the financial planning process
Achievement, or be in the process of achieving, a minimum Level 4 professional qualification.
Course Fact Sheet
Download our Course Fact Sheet here for more information.
See a sneak peek inside the ACT manual.
For further information please see our FAQs.